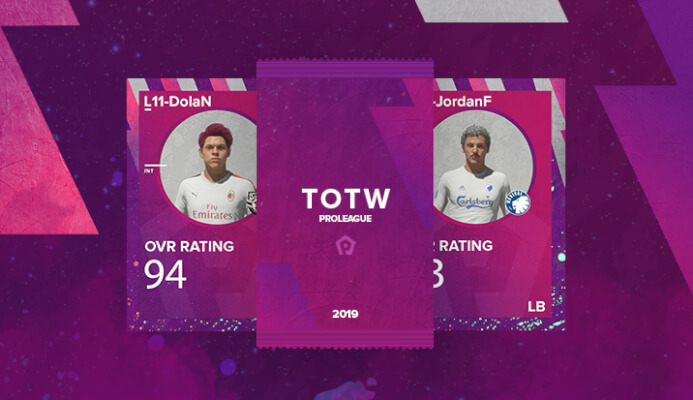 TOTW: S19 | League INT | Matchday #6
Veröffentlicht am 27.Nov.2019
-
TOTM

von Bonzai3000
-
288 mal gelesen
To honour special performances in the International League we will post regularly a Team of The Week. The players chosen will be based on the matchdays of that week (week 11 and 12). NONE of the players haven been chosen by the writer.
---
TOTW S19 Week 6
Goalkeeper
With two passes (of which one failed), a save and a suicidal action outside the box REV-ELEVEN contributed greatly to this week's two clean sheets against Venom FC and Fusion FC.

Wing Backs
The former Entourage and SimpleX player is having one of his best seasons of his career, conceding only three goals in the last ten games. This week too, keeping a clean sheet against Fusion FC and Venom FC, REV-JordanF has shown to be a great all round defender who can easily play on every position.
The RM and RB from SimpleX had a unruly week, winning 4-0 against Ukraine, but losing painfully 2-1 against Provocateurs and seeing REVIVAL creating a gap of four points. Even though the painful loss Sx-JamesPenk scored twice quite high with an 7.8, slipping the MOTM twice to one of the SimpleX strikers.
Centre Backs
If it wasn't for Vitaly1969 the 4-0 loss against SimpleX could be much worse, rewarding him with his first MVP for the season. In the match that followed against Tsunami Poland, Vitaly and his team Ukraine secured three points closing the gap with the Polish competition to only two points, giving them hope of a great escape from the relegation zone.
The bald, rocksolid center back and baker from Revival kept yet again two cleansheets, bringing his total for this season to an impressive seven games without conceding. At this rate REV-N1Baker will be competing for the TOTS.
Central Midfielders
Having played five matches as a CDM this season and keeping a stunning 60% clean sheet, HzN-Weesco is playing a major role in the team, keeping Horizon in the title race and adding a third name to the current title contesters.

Not giving any assists or scoring, REV-PietHeynn may not look like a real competitor for this week's TOTW. When watching the games it becomes clear Piet is the leader and architect of the REVIVAL midfield, winning them both matches and yet again not conceding a single goal this week.
Wing Midfielders
Even though getting 1 point after 2 matches this week with his team Ragnarök FC, RAG-Gorri had a great week, keeping a clean sheet as a RB and scoring a goal as a RM against Legacy.
Horizontally on the other side of the pitch stands another Ragnarök midfielder: RAG-Xavi_siX. Having the tough job of stopping L22-Spider against Legacy he succeeded greatly.
Strikers
Scoring both goals against Ragnarök and the second goal against Unshackled L11-DolaN single handedly secured another six points for Legacy, coming closer to direct competitor SimpleX, whom dropped two points this week, and to a ticket that guarantees a spot in the next Champions League season.
With a solid hattrick Sx-AzZGOD made his statement as being one of the best strikers in the International Leagues, standing second after REV-Stefan. Having now scored eleven goals and giving six assists, Azz is on his way to improve his current record of 24 goals and nine goals in season 17.
---
0 Kommentare
27.11.2019 um 10:18
---
---
Artikel

in dieser

Kategorie