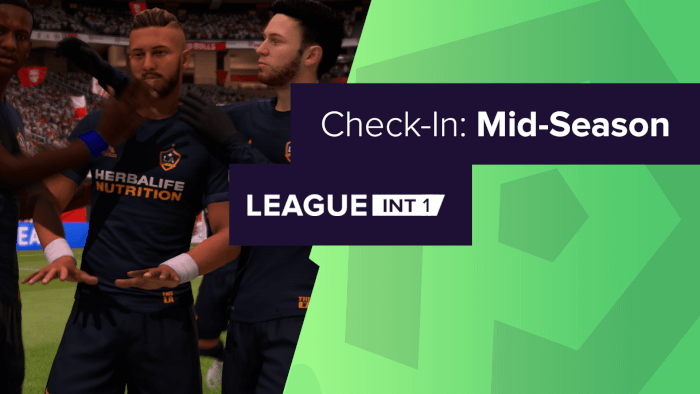 S22: Check-In | Mid-Season | League INT. 1
Veröffentlicht am 12.Jan.2021
-
League News PC

von edwinscott
-
1386 mal gelesen
S22 of League INT. 1 has reached its midway point. We look back at some key points in the season and review each team's progress at the halfway stage. And we also look forward to what you should expect in the second half of the season.
---
REVIVAL
Predicted final standings: 1st
Current standings: 1st (12 games played)
Perhaps the least surprising thing as we check in on the league midseason, is that Dutch giants REVIVAL find themselves at the top of the table. The side continued their dominance from S21. They grabbed an impressive 28 points from a possible 33. However, they were not exactly quick off the blocks. An underwhelming opening day draw against Ragnarök FC, as well as a defeat to S21 runners up, Juventus Bucuresti in Matchday 4, had some doubting whether REVIVAL would continue their dominance into the "new" FIFA. Those doubts were unquestionably removed as the team, led by a lethal frontline of Azz and PandaDahley, rallied to SIX straight wins. The striking duo was involved in 88% of REVIVAL's goals, as well as topping the Int 1 scorer charts, proving themselves indispensable for their side. Let's not forget about their backline either, who since the start of the season have only conceded 6 goals, the best record in the league.
A back-to-back league championship looks very much so on the cards unless a truly remarkable slip-up. It is safe to say, REVIVAL is well and truly BACK.
Las Estrellas
Predicted final standings: 2nd
Current standings: 2nd (12 games played)
Predicted to be one of the top teams in the league before the season, Las Estrellas has certainly made noise. They started the season off unbeaten in their first five games. Within those they scored goals for fun, most notably putting six past French side Venga Venga FC. On the other end, they shut out their opponents, conceding only one goal against Venom FC. An away trip to REVIVAL in matchday 6 proved to inhibit their explosive start. A tough 4-0 loss to the league leaders halted their title ambitions. Las Estrellas' scoring outbursts have come far and few between after the REVIVAL matchup, managing only four goals in the run into the Christmas break. Yet frontmen, Franjo0 and Leguinia have become league leaders in the race for the golden boot as well as on the assisting front, where the latter leads the league with 7.
A title charge is still on the table considering they are only 6 points behind the leaders. Matchday 17 could decide the title as Las Estrellas and REVIVAL go head-to-head once again. We cannot wait to watch that one!
ObstruXion
Predicted final standings: 7th
Current standings: 3rd (12 games played)
ProLeague veterans ObstruXion, are the only other team I can see in the title race. With a strong foundation, the French side looked to press on this season and finish higher than their 3rd place finish in S19. Matchdays 5 and 6 proved the catalyst for this team, scoring a total of 9 goals between the two games. More remarkable was the way they won. On Matchday 5, Venga Venga FC took an early lead thanks to Beuuzzyy. But ObstruXion hit right back with a four-goal flurry to take an important win away from their French rivals. In Matchday 6, Polish side Magic Storm E-Sports struck two early goals. But again, ObstruXion persevered and went on to win the game 5-3. These two games galvanized the team and saw them finish the first half of the season on 21 points.
They begin the second half with two vital games against Las Estrellas and Ragnarök FC, which will certainly challenge their credentials as valid title contenders.
Magic Storm E-Sports
Predicted final standings: 10th
Current standings: 4th (13 games played)
Perhaps the biggest shock of the season is the rise of league newcomers Magic Storm E-Sports. Predicted to finish 10th, the Polish side has greatly surpassed expectations. Playing with a chip on their shoulder, the team has climbed up to 4th, with some impressive victories along the way. Most notably a 2-0 win to last year's runners up, Juventus Bucuresti. CDM 4R3KKS has been one of the best players on the team. He has racked up 7 MVPs so far, the most by a considerable margin in the league. The Polish side will want to build on this positive start.
However, with the first half now gone, teams will surely take them more seriously now, resulting in tougher games.
Solarize FC
Predicted final standings: 9th
Current standings: 5th (12 games played)
Solarize FC has been a steady ship so far. 5 wins, 5 losses and 1 draw tell the story. Inconsistency would be the main worry for this team. Two default wins in a row have been their only consistent run. Notably, Two games, against Venga Venga FC and Venom FC, that they lost, were later given as wins due to penalties and PLACT issues. Therefore, their higher ranking in the league is perhaps a kind reflection on their actual play this season. A serious lack of goals will also be a worry for this side. Their frontline only managed 2 goals so far, which shows us they struggle to break sides down.
With a long winter break, Solarize FC will have worked on this, and it will be interesting to see the development of the team in the second half.
Ragnarök FC
Predicted final standings: 3rd
Current standings: 6th (11 games played)
One of the more established teams in the league, it has been a bit of a disappointing one for Ragnarök FC. The big story for this team is drawing. They have dropped 12 points just from draws with half of them being stalemates. The two losses came against top-half rivals Venom FC and Las Estrellas. A major positive however is their impressive defence. Statistically, they are the joint 2nd best defensive side in the league. They managed to hold leaders REVIVAL to 0 goals in their first matchup. The addition of Zaiju from FC Inter Berlin has been a huge factor for the team.
I believe if they can turn those draws into wins, they can easily turn their fortunes in the second half.
Juventus Bucuresti
Predicted final standings: 4th
Current standings: 7th (12 games played)
Last seasons' runners up have struggled, having had a bit of a 2nd season hangover in the first half of S22. The loss of xLewy9x to REVIVAL has had a big impact. With him in the team last year, Juventus Bucuresti split their goal contributions between him and star striker Cristiano. However, this year, despite adding George292 back to the lineup, Cristiano has only managed 3 goals in the league so far. They have shown glimpses of quality throughout the season. Currently, they are the only team to have beaten REVIVAL, ending their 29 unbeaten runs in INT 1. A 75th-minute goal by French forward Mpleum made it 2-1 against the reigning champions. However, losses to Venom FC, ObstruXion, Magic Storm E-Sports, and Solarize FC have seriously hampered their season. The Romanian side is competing in 4 different competitions at the moment which could explain their poor start.
Whether they can escape this rut is to be seen. They have displayed their quality, something they need to show more often if they want to climb the table.
Venom FC
Predicted final standings: 5th
Current standings: 8th (13 games played)
One of the longest standing teams in INT. 1, Venom FC like Solarize FC have had a rather different season to what their points total may suggest. A win against Solarize FC turned into a default loss due to PLACT infringements, which would have Venom FC up to 4th in the table. Instead, they sit in 8th. Despite this, as predicted, inconsistency has held Venom back from seriously challenging for the title. On the positive side, DaniNL has had a promising season with his new club. He has been involved in 32% of goals for the team, giving him a total of 5 goals. However, towards the end of the first half, it was SolBamba's switch from defence to attack that spearheaded the Venom FC frontline.
Since his position change, in 4 games he has been involved in 5 goals. I still believe this side can turn their season around if they stay consistent.
Venga Venga FC
Predicted final standings: 6th
Current standings: 9th (12 games played)
Their season has been a turbulent one. The main story of Venga Venga FC is their poor defence. They have the most goals conceded in the league with 22, which when default losses are taken away would be at 19. Default losses have definitely halted their progress. Instead of gaining a further 4 points, they have got nothing due to penalties. To the top two teams, the French side shipped 9 goals. They also conceded 4 to their rivals ObstruXion. However, in their last three games, they only conceded 1 goal which points to essential improvement on that end.
orKs Grand Poitiers
Predicted final standings: 8th
Current standings: 10th (13 games played)
OrKs Grand Poitiers have underperformed and have looked far from the team that won the Europa League last season. A horrible run in form had seen them drop into the relegation zone, managing only one win in ten when default wins were excluded. From matchday 6 to matchday 10 they went 4 games without hitting the back of the net. A very worrying sign for a team that sees themselves in the relegation scrap. A 1-0 win away to rock bottom Promising was at least a positive result to take into the break.
With high calibre players amongst their ranks, I don't see OrKs staying in the spot they are in right now, but they do need to change something because if they don't, they could go from hero to zero. From Europa League champs to Int 1 relegation.
Promising
Predicted final standings: 11th
Current standings: 11th (12 games played)
Another newcomer to the league has had it hard. Their transfer reshuffle has definitely not had a positive impact. Promising finished 4th last season, but let eight players go, with only two others coming in. In the preseason Check-in, we predicted it would go bad rather than good and that is exactly what has happened. With only 7 goals in 11 games, they are the lowest-scoring team in the league. A bright spark has been the new signing Bradiculture88, who has bagged almost half of those goals.
Unfortunately, I don't see their fortunes changing, and see them relegated to INT 2.
Fake Shot
Fake Shot has folded, stating they wanted to regroup and work on their game away from the competitive scene.
---
We at ProLeague.de hope you have had a great holiday break, and wish everyone a happy new year!
---
4 Kommentare
12.01.2021 um 10:00
---
---