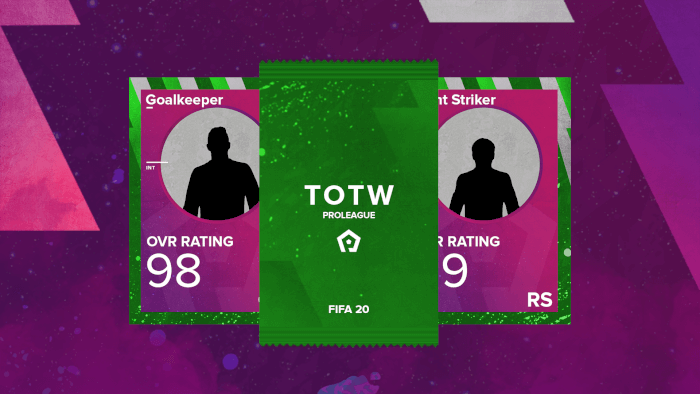 TOTW: S22 | League INT3 | Matchdays 17-22
Veröffentlicht am 16.Feb.2021
-
Team of the Week PC

von Sulu
-
436 mal gelesen
To honor special performances in the International League, a TOTW will be posted regularly. The players chosen will be based on the match days of that week.
How is the TOTW determined
---
---
---
---
Goalkeeper
GK: Wkn13
The Romanian goalkeeper Wkn13 of fastPay Wildcats finished his last five matches of the season with two clean sheets. With his performance against their direct opponent ICONS, he helped his team to get promoted into League INT. 2!
Defense:
LB: TwMchit
With his first games for his new club, TwMchit played two games out of four without conceding a goal. That's a good beginning with fastPay Wildcats and was also an important step for the promotion.
CB: TheAmazingTiDus
TheAmazingTiDus couldn't play a game without conceding a goal, but scored instead two goals for his team ICONS. The goal against LIONS UNITED was the 2:1 winning goal. Unfortunately, ICONS wasn't able to get promoted with his goals.
CB: SongOfGod
The centre-back of fastPay Wildcats played like his partner TwMchit two games without conceding a goal. In general, SongOfGod was a big factor in the promotion of fastPay Wildcats.
Midfield:
CDM: Ador
Ador, the central defensive midfielder of LIONS UNITED, was able to gain four assists in the last six matches of Season 22. With two assists, he helped his team significantly to win against Dracarys FC. For his performance against Kings of Nothing, where Ador got a game without conceding a goal, he earned the title of MVP.
CM: anilkzlbyr
For anilkzlbyr, it's the second time in a row to get a place in the totw. In five games, he collected two assists and helped his team fastPay Wildcats to get first place in the league, and promote into League INT. 2.
RM: iiDoomsday
The first season of iiDoomsday in the ProLeague seems good. In three games, he scored once and assisted twice. Against ICONS he supported his team Dracarys FC with his performance to win the important game.
CAM: mangaka
The Turkish player mangaka played five phenomenal last matches in this season. As cam, he scored two goals and helped his strikers with four assists. He was a significant factor in the last-matchday promotion of fastPay Wildcats.
Striker:
RS: Saulolo
In his last six games of the season, Saulolo scored a goal in nearly every game. With a total amount of six goals and one assist, he showed very good performances for his team LIONS UNITED. Also, in the games against Renegades eSports and fastPay Wildcats, he managed to get the title as MVP two times.
ST: ACL-sfm
ACL-sfm is the perfect addition to his partner Vayazi. With eight assists in five games, he helped his teammate to score many goals. Besides that, ACL-sfm scored four goals and earned himself two MVP titles.
ST: Vayazi
The player with the best performance in this totw is Vayazi. He managed to score an amazing eleven goals in five games. Vayazi got a hat-trick in three matches and significantly helped his team to catch the last promotion place in League INT. 3. Also, he collected two assists and got the title as MVP four times.
---

Honourable mentions: The Bench
Goalkeeper:
TreesRH0803 (ICONS)
Defence:
Zam0ra (LIONS UNITED)
Leyend1987 (LIONS UNITED)
MrVifu20 (LIONS UNITED)
Midfield:
Omarbory (ICONS)
Misaj8 (fastPay Wildcats)
lasmagol (C.F. KINGSIZE)
Mariode1 (LIONS UNITED)
Striker:
AM4NE1 (LIONS UNITED)
V3NOM (LIONS UNITED)
klauss (C.F. KINGSIZE)
---
5 Kommentare
16.02.2021 um 12:00
---
---