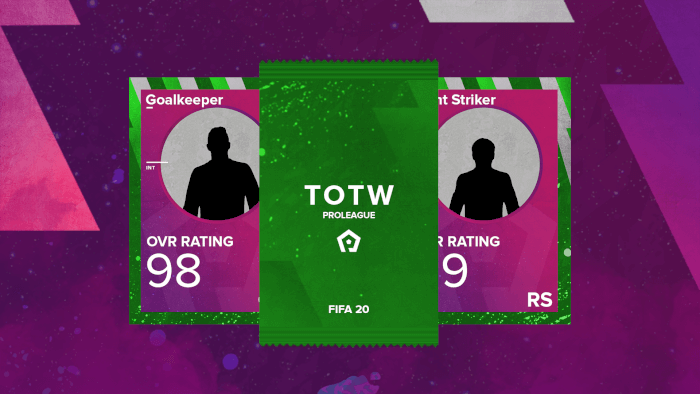 TOTW: S23 | League INT 1 | Matchdays 4 - 7
Veröffentlicht am 07.Apr.2021
-
Team of the Week PC

von DasKaninchen
-
509 mal gelesen
To honor special performances in the International League, a TOTW will be posted regularly. The players chosen will be based on the match days of that week.
In case anyone is wondering why their image is not in the TOTW: Before the start of this season, screenshots were taken of all players. Therefore was an announcement asking players to stay in their team registered on PL.
How is the TOTW determined
---
---
---
---
Goalkeeper
GK: 1iQ-NeuerTV
A warming return for the German Goalkeeper in the INT1 League. Once making his debut here, 1iQ-NeuerTV has continued doing what he does best: keeping his net empty. His debut weeks started with a clean sheet in the 2-0 win over ObstruXion and ended with another clean sheet in the 3-0 win over Romanian side Juventus Bucaresti. It has immediately undone the bad start his side had and pushed them back into the race for a CL-ticket.
Defence
LB: REV-Thijmo
While technically not being a left back, REV-Thijmo is registered as one. Changing the formation for tactical reasons to a five-at-the-back-system, has not changed the efficiency for the Dutch winger. Racking up a goal, an MVP, an assist and two clean sheets, it may be an unfair advantage to get into the TOTW, it certainly helped REVIVAL to get their results. A perfect example of this was the match against Magic Storm Esports. Scoring a goal and assisting one, the match ended in a 2-1 win.
CB: eSt-Ajer
Playing his second season in ProLeague, eSt-Ajer has been making a name for himself. The Norwegian centre back already kept three clean sheets in just six matches and after a rough start of the season he worked himself and his team up to the eighth spot on the table. Two of these clean sheets came in the last three matches. Shoving aside ObstruXion (2-0) and easily beating Juventus Bucaresti (3-0),
eSt-Ajer has shown his quality shines against the better opponents of this league.
CB: Husty13rus
Husty13rus made his official debut in the INT1-league. What followed were four matches with two clean sheets. The Russian stood his guard and secured in total six points. Losing against REVIVAL (4-0) and Symphony (2-1) is no shame in losing. But even then Husty13Rus is capable of standing his guard and doing his job as properly as he can.
RB: Prestante
The second Russo Turisto player in this TOTW, is Prestante. The Russian right back is not known for his attacking capabilities, but makes this all up with his strong defensive mind. Holding the line in the 2-0 win over Khalkedon BS and the 1-0 win over Juventus Bucaresti. It will be a tough job for Russo Turisto to stay on the highest level, but with this defense they actually might have a chance.
Midfield
CDM: MSE_4R3KKS
To complete the Polish influence on this week's TOTW, there is MSE_4R3KKS. The Central Defensive Midfielder has never been so important as he was these weeks. Two clean sheets over Ragnarök FC and Symphony were just the start of his week. On gameday seven, he helped his team massively out with an assist on the 2-0 (3-2 end score) against Dying Breed.
CAM: 1iQ-Lillsey
Barely any week passes without an assist or a goal for 1iQ-Lillsey. It was a rare fenomene to see in TOTW. While playing for ObstruXion in game day four and five (assisting once against Venga Venga FC), he made a transfer to 1IQ Gang (the writer of this article refrains himself of making any jokes), where immediately did the same by assisting yet another goal against Venga Venga FC (3-1 win), followed by one another in the match against Juventus Bucaresti (3-0 win).
RM: Pres7-KHA
Thus far Pres7-KHA fulfilled his role as a right midfielder quite humidately. Until the sixth match this season he was not once involved as either the assistant or goal scorer. This all changed on the sixth day, scoring and assisting both goals he broke the deadlock and later on decided the match with the end result of 2-0. An important win that pulled Khalkedon BS out of the relegation zone.
Striker
LS: SpringFie1337
In just three matches SpringFie1337 was involved in six out of the eight goals scored by 1IQ Gang. In the 2-0 win over ObstruXion, he was involved with an assist on the 1-0. But that was just the beginning on what would turn out to be a rampage. Venga Venga got beaten 3-1, involving SpringFie1337 in all three goals with a goal and two assists; Juventus Bucaresti followed and got beaten 3-0, again SpringFie1337 was involved with an assist. In total it had earned him two MVPs, which finishes off his almost perfect gameweeks.
RS: 1iQ-Harel
SpringFie1337's partner in crime, 1iQ-Harel can not be excluded from the TOTW. Within three games the Israelian striker was involved in five goals. Two came against the 2-0 win over ObstruXion, breaking the deadlock right before half time and deciding it late in the match. Against Venga Venga FC he broke the deadlock again. This time in the 70th minute. Within ten minutes the score had changed from 1-0 down to 3-1 up. The final victim was Juventus Bucaresti, ending in 3-0. Again 1iQ-Harel had an important role in the opening goal, assisting SpringFie1337 and later on scoring the third goal himself.
RS: R9-Senz
New in the ProLeague, R9-Senz has developed himself into a true finisher. The current shared top scorer fivefold his goal record by adding four to the list. Ragnarök FC were beaten 2-1 and FC National lost 2-0. All goals came from the foot of R9-Senz, who sent his opponents home disappointed. At this rate the Frenchman could become topscorer on his debut season in INT1.
---
Honorable mentions: The Bench
GK - Trapp - Stade Poitevin FC by orKs GP
LB - Maarki9x - Reckless
CB - Chezzy - Magic Storm E-Sports
CDM - Diwersant10 - Russo Turisto
CM - Jurdss - Magic Storm E-Sports
CM - Pietheyn - Revival
CM - Hoz_Wolf - Outlawz
CAM - Ineiji - Stade Poitevin FC by orKs GP
LS - J4S10 - Outlawz
RS - AirChewy - Outlawz
RS - Emigor997 - Magic Storm E-Sports
---
1 Kommentare
07.04.2021 um 20:00
---
---