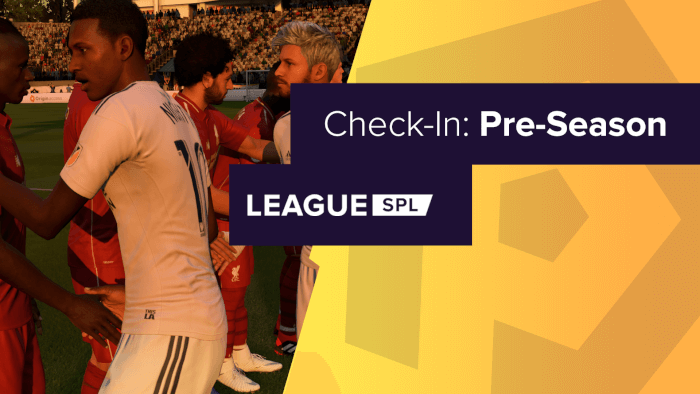 S24: Check-In | Super ProLeague | Pre-Season
Veröffentlicht am 12.Jul.2021
-
League News PC

von Alexx
-
5209 mal gelesen
Hello and welcome to the pre-season check-in of the Super Proleague. The best competition in the pc pro club scene is about to start!
Season after season, the Super ProLeague is becoming more and more competitive, no doubt that this season the pre-season predictions will be a real challenge! So in this article I'll try to talk about the 4 upcoming groups and what I see as predictions.
---
GROUP A
Predicted Standing
The first group of this competition will oppose many teams coming from various horizons! We will see teams coming from a lot of countries such as England, Turkey, Spain, Germany and Portugal! All this should offer us a clash of styles of play and make many matches even more interesting!
So I see a tighter group than it looks, although I think that DeathRowArmy, the German giant and recent quarter-finalist of the competition, should manage to stand out and get the first place. Especially when you know the two monsters that make up their attack, Nguyen and Makaveli!
After a successful season in Spain, the x6tence team should succeed in reaching the next stage of the competition, the efficiency of fell0w and Julio will be essential for the Spanish team!
Ragnarök FC, recent English champions as well as recent cup winners, are becoming a more than experienced team! Their key players Zig & Spider, who have already won the competition, and Ronan, the defensive boss, will be important to the success of the team, which is probably not dreaming of Valhalla in this competition.
That should be the top half of the group. I can see JustWatch FC, a formidable Turkish team, qualifying for the next round as well. The excellent raxy is now at the forefront of the attack and when you know how effective he is, you can imagine that playing the Turkish team will be a challenge!
AD Fafe eSports is a newcomer in the ProLeague, so the Portuguese team will make its debut in the PL competitions on the big stage as they will start with the most prestigious one. No doubt they will be keen to show their quality, however I feel they may lack the experience to join the rest of the competition.
x6tence will also meet up with their opponents Ingravidos, another Spanish team who are now also in ProLeague International 2 and have just finished a satisfactory 5th place in La Liga, ToniFRL, a renowned Spanish striker, has also just joined their squad. No doubt they will be a tough team to play against, especially when you know the Spanish team's love of possession football. Nevertheless, I think it will be difficult for this team to get past this stage of the competition, however we are never safe from a surprise!
The fearsome LIONS UNITED, after a remarkable evolution in the PL INT, are going for the Super Proleague! After a failed campaign for the Spanish club in group D last season, they will no doubt be keen to do better, but I see a tricky group for them once again.
Despite a recent rise to League ONE for the German club TSV Cyber Warriors I see a tricky campaign for them, probably less used to playing first division teams than the other teams here I see a more than complicated group for them.

GROUP B
Predicted Standing
Is this German 1 division?
With 5 teams from the German Division 1, there is no doubt that the opponents will know what they are up against!
After two very successful campaigns, Equality 05 is probably still filling its pockets and trophy cabinet. Even if they seem less ready than in the last two editions, having drastically changed their squad, it seems that Fitzo has worked well during the off-season, managing to build a top level team once again. I can see Equality finishing in first place here.
But we'll have to watch out for the other German team that had an eventful off-season: ALL4TheGame! It will be interesting to watch Tom4h4wK and Jannik2711 reunite against their former partners. With a very interesting recruitment, the German giant should manage to reach the top of the group.
Once again a German team: Bad Touch, now a well known team, will be part of this group! However, this time they will be without their former star striker Nguyen. However, I think this team is very strong both tactically and collectively and should be able to compete in the next stages of the competition.
Currently first and big favourites in the German League ONE at the time of writing (STOPTHECOUNT!) Back 2 Roots finished last season in 10th place in the German league and reached the round of 16 in the SPL. They will undoubtedly be a formidable opponent once again. They have always managed to be well positioned in the group in the last few competitions, and with little change to their squad I see the German team getting 4th place in this group B.
The bees now seem to be allowed to compete in the Super Proleague! Worker Bees club recently founded by Darius-XIII and edwinscott's is composed of many experienced players on the international scene. They should do well in this group and cause many problems for the other teams, but will it be enough to qualify? No doubt they will need a strong performance from their playmaker Niki96. Definitely!
Still a German team! And once again a triple reunion between the former Rasenbande players now at Equality, those who stayed in the new version and now those who joined AcAvenger at ACE Ventura! However, I see here a tricky competition for ACE Ventura who seem to have struggled to maintain their position last season, the SPL is a very complicated competition and their recent numerous transfers should make it even more complicated to get out of this group.
Portuguese giants Sporting Clube de Braga will also make their ProLeague debut! A great start like their countrymen AD Fafe eSports. It will be interesting to follow their debut, but one thing is for sure, they will have a hard time in such a group!
And last but not least I see FC National, the Romanian team, having difficulties here, with so many big teams, getting out of group B would be a huge achievement.

GROUP C
Predicted Standing
The group of death? Thanks to whoever made the draw, predictions are...tricky!
However, I see one team standing out here, I'm talking about the recent champions league and German League ONE winners: the giant Knallgas. With their last season and the recruitment of the famous Azz & KeukenRol. They should manage to finish first. Unless the recent departure of No1Baker from the team costs them their defensive stability.
In the second place, I see the German team VOLT. Thanks to the recruitment of recent PL INT winners PietHeyn, Piggy and Lewy. But with the recruitment of the formidable Madoorah and the return of Luca, the team seems to be very solid on paper!
In third place, the French giant Akwa Corp will be in the game, with a greatly renewed team they will be ambitious and should have the ability to go into the next round.
Then I see FC Inter Berlin getting the last ticket for the rest of the competition, one of the oldest teams on the site! The performances of their key players Santiago and Nakii will be essential to ensure their qualification.
Recent Polish champions Magic Storm Esports will also be a fierce opponent for the other teams, they should be a serious contender for qualification.
The Turkish team Khalkedon BS is quite hard to predict here, known to be a difficult team to play against due to their style of play and their formidable counter-attack, but they have obviously changed a lot of their team and especially the attack, if it works out quickly, it will be very close.
Unfortunately for ObstruXion, I think that the qualification will be mission impossible especially with the departure of Brainzz for the Akwa Corp. I do not think that the French team will find its best level in order to leave the group.
And to finish off group C, the surprise guest following the disband of Outlawz: Kreisliga FC, the German team recovers its slot left by the French team, it will seem here that the step will be too high for the team of division 2.
GROUP D
Predicted Standing
It is now time to move on to the last group and the least we can say is that it is still a group that will offer us matches of a very high level!
The excellent Juventus Bucuresti is for me the favorite of this group, recent finalist of the competition. It is sure that Cristiano's players will arrive with the desire to finally win this title that escaped them.
The gang of 1iQ is with this new version as one of the leaders of this group for me, led by Lillsey at his best, the international team should fly to the qualification.
French dinosaur orKs GP have big ambitions this season, with an important transfer window. They will have to be solid to achieve their goals and get there.
The former DeathRowArmy 2 team has changed its image this season and is now called Raiders, they are for me a very solid and competitive team with GVatZip coming out of an incredible 67 goals season in division 2. He will be the key to the success of the German team if they manage to offer similar performances this season.
After the Raiders comes ESC Fireball, a French team founded at the beginning of FIFA, they are climbing the ladder ahead of an INT 1 team. And they are a very strong team thanks to their collective strength. Their recruitment will bring them the missing experience but will it be enough to dream bigger?
Back this season, the illustrious German team is also making its return to the SPL. Hayvan's men will have their work cut out for them to be ready for this prestigious competition, I think that unfortunately it will be complicated for them to get through here.
The last French team, Impulsion, plays for me at a level quite similar to Core Gaming & Fireball, however I see IMP having a hard time getting past here, but who knows in such a tight group, where one or two wins at the right time can turn everything around.
Then finally I see Anatomy FC not being able to compete with the other teams, but no doubt they can gain experience here.

---
Thank you all for reading, this is quite a complicated article to write, I hope you enjoyed it.
Any comments will be appreciated!
---
10 Kommentare
12.07.2021 um 09:00
---
---