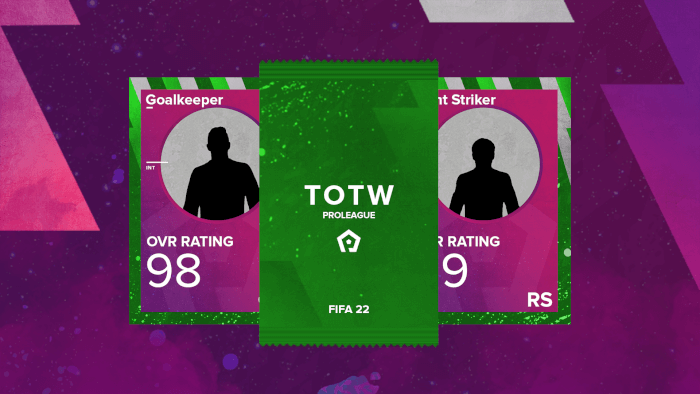 TOTW: S25 | League INT 1 | Matchdays 1-4
Veröffentlicht am 21.Nov.2021
-
Team of the Week PC

von iUltra1991
-
1094 mal gelesen
To honor special performances in the International League, a TOTW will be posted regularly. The players chosen will be based on the match days of that week.
How is the TOTW determined
---
---
GOALKEEPER
GK - Rumpelstiltskin_INT1
The dominant shot stopper who was a big influence last season for Khalkedon BS, is back at it again this season in his first 4 Games he
claims himself 2 Clean Sheets. First coming in the 4-0 Victory vs Lions United and the 2nd from the 4-0 Victory against Ingravidos.
DEFENDER
LB - bassY10
The VIBORAS Wing back has got back into form since his time in REVIVAL. Bringing incredible performances with stats totalling 1 Goal,
2 Assists, 1 Defensive Clean Sheet and 1 MVP from 3 Games.
CB - Winfield
Just like his counterpart Rumpel from Majestic VFC, Winfield also grabs 2 Clean sheets in 4 Games in both 4-0 Victories over Lions
United and Ingravidos.
CB - Tudor_Ilinca & alexandru
This pairing from Juventus Bucuresti have done well in the first 4 Games of the season, also grabbing 2 Clean Sheets and 1 Match MVP
from 4 Matches Played. A Clean Sheet in the 1-0 Victory over Ragnarok and another another Clean Sheet in the 1-0 Victory over
BeeUnique.
LB - WoLWoXxXx & KaanKaya
Another 2 Players from Majestic VFC is WoLWoXxXx and KaanKaya joining their teammates also with 2 Clean Sheets from 4 Games
Played both from the 4-0 Demolition of Lions United and Ingravidos.
MIDFIELD
CDM - Klaudius
BeeUnique's Defensive Midfielder Klaudius is no stranger to turning up when it's needed most! Another player in this TOTW grabbing 2
Clean Sheets from 4 Matches played. The first in the 2-0 Victory over Cerebrum FC and the Second he grabs in the 0-0 Draw versus
Ingravidos.
LM - Mohammed
From PYRAMIDS we have Mohammed who has had sensational form these past 4 Games picking up a staggering 2 Goals and 3
Assists. In much needed performances like the 5-2 Victory vs Lions United where he picks up 1 Goal and Assist and the 2 Assists vs
Ingravidos in his sides 3-0 Win.
CAM - GurkanPingu
Another entry from Majestic VFC is GurkanPingu. Picking up 2 Assists and 1 MVP from Central Attacking Midfield. He gets these stats
also in another 4-0 Beating of Lions United.
FORWARD
ST - Respect
RAMPAGE have quite the striker on their hands, Respect has been sensational during this 4 Games Played and his stats show it, with 4
Goals, 2 Assists and 1 Match MVP he deserves this spot. With performances such as the 3-1 Victory over PYRAMIDS grabbing 1 Goal
and 2 Assists and the 3-1 Victory versus Rebrand Project picking up a Brace and the Match MVP.
LS - orcuna
Majestic VFC seem to be dominating this the first TOTW of the new Season with orcuna being entered and no doubt about his talent.
After 4 Games played he grabs 5 Goals and 1 Assist with a Match MVP. Performances such as the Hat-trick and Match MVP in the 4-0
Victory vs Ingravidos show off orcuna's ability in this league.
LS - Souf9191
And from Stade Poitevin FC by orKs GP is Souf, a name we've been accustomed to seeing in the TOTW's over the seasons. Coming
home after 3 Matches with 4 Goals, 1 Assist and a Single Match MVP. Picking up a Single Goal in the Strong 2-0 Victory vs Juventus
Bucuresti and 2 Goals, 1 Assist and the Match MVP in the Difficult 3-2 Victory vs RAMPAGE.

---
Honorable Mentions - The Bench
GK - Apequitas - BeeUnique
CB - Roskad - Stade Poitevin FC by orKs GP
RB - Stefan305 - Juventus Bucuresti
CDM - AlexisTB - BeeUnique
CM - Ineiji - Stade Poitevin FC by orKs GP
CM - Oz_Pyroman - VIBORAS
CM - Kanuzz - Majestic VFC
CAM - BasseM - PYRAMIDS
LS - Madoorah - VIBORAS
RS - TAZMANIO-13 - VIBORAS
ST - Kaisar1998 - PYRAMIDS
---
2 Kommentare
21.11.2021 um 19:00
---
---